I need help now!


Call us 13 11 14 (24 hours a day)
Chat to us online nightly, 7 days.
Access help resources online.
Call 000 (Emergency Services) if life is in danger.
If you are thinking about suicide or experiencing a personal crisis help is available. No one needs to face their problems alone.




Lifeline WA has moved. 
Our office is now based in Subiaco. Click on the image of the map to view its exact location.
Street address: Level 2/50 Subiaco Square Road, Subiaco, WA, 6008
Postal address: PO Box 509, Subiaco WA 6904
Email: reception@lifelinewa.org.au

Telephone: 08 9261 4444 (available during *business hours)
*Please note our business hours are Monday - Friday from 9am-4.30pm.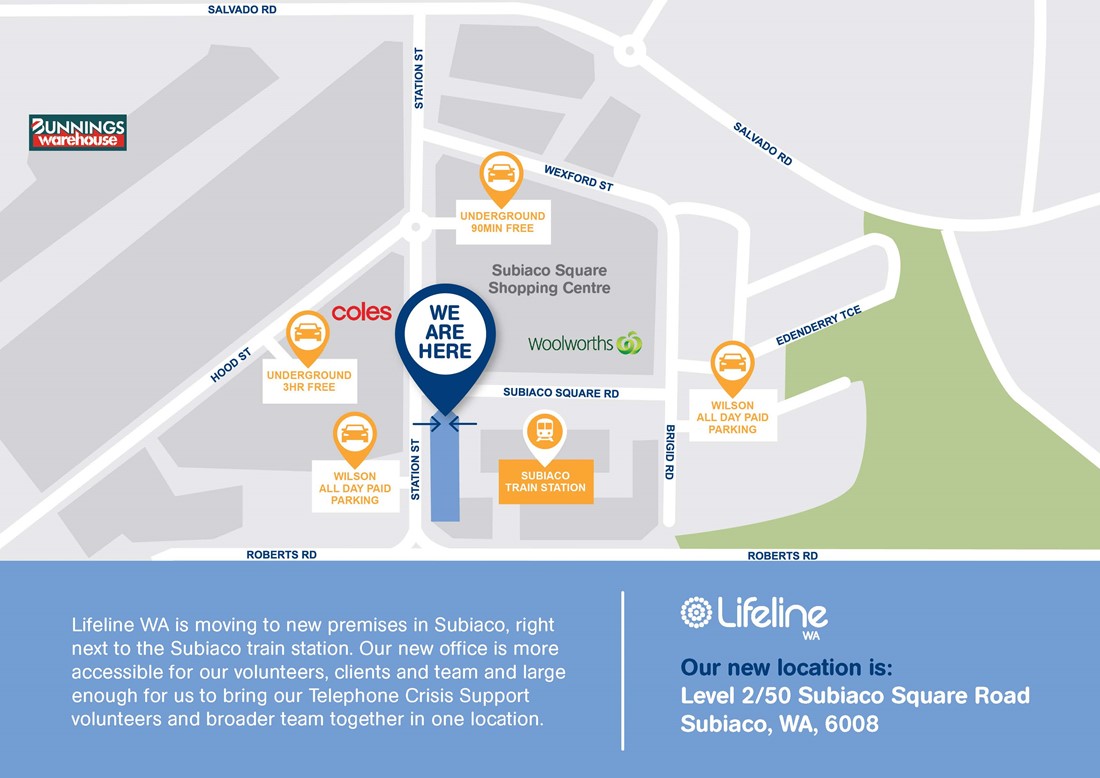 Complaints, Compliments and Feedback
Lifeline WA is committed to providing the best possible service. We want to hear about your experience and welcome your feedback, compliments, or concerns. 
If you have received exceptional service, please let us know so we can pass on your compliment and recognise our team member. 
If something happens that you do not like about our service, please let us know.  
To make things easy for you, there are a number of ways for you to contact us. You can: 
Submit an Enquiries and Feedback form here
Email the Complaints Officer at complaints@lifelinewa.org.au


Talk to a staff member or ask to speak with a manager

Call us on 08 9261 4444 and ask to speak to the CEO, Lorna MacGregor

 
If you need or prefer another person or organisation to assist or represent you to make a complaint, we will communicate with you through your representative. 
Anyone may act as your representative, as long as they have your consent (for example: advocate, family member, legal or community representative, member of Parliament, another organisation).  


---
Media enquiries or interview requests contact
The PR Collaborative
Carla Shearman
0418 140 220
carla@theprcollaborative.com.au