Scarborough teenager Georgia Ongarezos has become the youngest person to complete a solo swim from Rottnest to Cottesloe in the black of night.
The 18-year-old swimmer took on the challenge both to raise awareness of mental health issues and raise funds for Lifeline WA.
Ms Ongarezos set off from Rottnest at about 10:30pm on Wednesday night and arrived just before 4:30am on Thursday, completing the 19.7km journey in just under six hours.
She said she found inspiration in the people she knew dealing with mental illness to keep her going during the swim.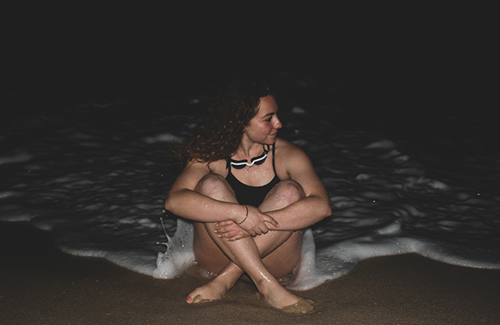 "Each kilometre I dedicated to one of my friends who was struggling with mental illness or had gone through a tough time and that was the whole swim, just that person each kilometre," she said.
"We all either know someone who is suffering from mental illness or are suffering from mental illness ourselves and I know too many people who are affected," she said.
Ms Ongarezos, who is one of only a few people to have done the crossing at night, said she came up with the idea while dealing with her own recent mental health struggles.
"I went through a really tough stage a few months ago, I've always been in and out of depressive states but this time round it was a whole different story and it felt like literal darkness," she said.
"I decided to swim in the darkness from Rottnest to Perth to inspire those who are struggling at the moment and feel like they are in darkness that there is light at the end of the tunnel and you can get there if you believe in yourself."
Despite some early nerves, Ms Ongarezos described the crossing as "the best swim of my life".
"The last few swims I've done have been really hard, but this time because I was so filled with love, the whole way over I loved it – it was the best swim I've ever done," she said.
"It took me about four kilometres to settle down, but once you settle down you surrender to the darkness and the possibility of sharks being there and all those negative thoughts going through your head you become fearless and it becomes like walking; you just do it."
Ms Ongarezos's online fundraising page has collected almost $12,000 for Lifeline WA, which she said was a vital resource.
"Lifeline is so important to our community because they are literally on the front-line saving lives," she said.
"A couple of my friends called Lifeline when they were suicidal and they wouldn't be here today if it wasn't for Lifeline."
Lifeline WA CEO Lorna MacGregor said the efforts of fundraisers like Georgia would make a direct impact on Lifeline WA's ability to answer every call from West Australians.
"The funds raised by people like Georgia are used to train more telephone crisis volunteers, which is the key to answering more calls," she said.
"The recent demand for our vital service has been unprecedented, and our WA volunteers have stepped up, answering thousands more calls this year compared to the same time last year."
You can contribute to Georgia's fundraising here: https://www.mycause.com.au/page/235525/georgia-ongarezos
Lifeline's 24/7 telephone crisis support service is available on 13 11 14.